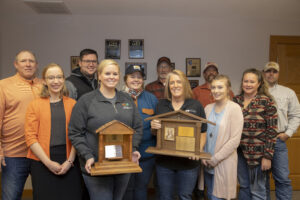 Payne County Farm Bureau was honored with the Oklahoma Farm Bureau's top county awards during a special awards presentation on Friday, Nov. 13.
The county was presented with the John I. Taylor Award, which serves as OKFB's highest county honor. Named for the organization's first president, the award recognizes excellence in program areas of public policy, local affairs service to members, membership, Women's Leadership Committee and Young Farmers and Ranchers Committee.
Payne County also was honored with the OKFB Lewis H. Munn Award, also known as the Farm Bureau Builders Award. The honor is given to the county that conducts the strongest program in a chosen area. This year, the county program area was membership involvement.
"Our board and members have worked hard in the past few years to put together more and more programs," said Nancy German, Payne County Farm Bureau president. "It tops off what we do to try to excel in our communities. We've tried really hard to put Payne County Farm Bureau back on the map."
Due to challenges from the COVID-19 pandemic, Payne County looked for creative ways to get members involved in their annual events. A highlight event of the year is county resolutions meeting, which allows members to send their solutions to agricultural and rural issues in their communities to be considered for inclusion in the OKFB policy book.
Instead of holding an in-person meeting, Payne County Farm Bureau this year mailed letters to voting members, encouraging them to send their top resolutions to be considered by the county board. More people participated this year than ever before, and German said it proved that farmers and ranchers want their voices heard – especially during a difficult year.
"Farm Bureau, even on a local level, has such a voice," German said. "Things affecting farmers and ranchers, and even people in cities, Farm Bureau has a hand in. In the year 2020, we've all learned a little about how important it is to be supportive of agriculture."
Payne County also worked to continue their involvement through the community, despite the challenges of the global pandemic.
The Payne County Farm Bureau Young Farmers and Ranchers Committee planned, coordinated and hosted a bucket calf competition for children ages 5 to 12 at the county livestock show. Though the Payne County Fair was canceled, the bucket calf competition gave local youth an opportunity to exhibit all the hard work on their livestock projects.
Members also hosted the county's first coat drive to support local children in need during the cold winter months. In total, the county collected 201 coats and $250 in gift cards to be donated to the county's department of human services.
"Here in Payne County, if there is an activity that involves children, we want to educate children and their parents about what Farm Bureau does, as well as what agriculture is about," German said.
As the winner of both the John I. Taylor Award and the Lewis H. Munn Award, the county received two traveling trophies to be displayed in the county office.
Awards are typically presented during the organization's annual meeting in November, but OKFB opted to conduct a virtual business meeting this year to protect members' health and safety. Award winners will be highlighted throughout the month of November on OKFB's website and social media platforms.
For a full list of OKFB awards, visit okfarmbureau.org/awards2020.
---
Watch for a brief overview of what the award means to Payne County Farm Bureau.