The Payne County Farm Bureau Young Farmers and Ranchers Committee was honored with the 2021 Oklahoma Farm Bureau YF&R Charles L. Roff Award on Saturday, Nov. 6 during the organization's annual meeting in Norman.
Presented to the state's top county YF&R committee, the Charles L. Roff Award encourages YF&R members to improve their local committees while strengthening the Farm Bureau organization.
"We are really proud of our committee for all of the hard work they have done this past year," said Shelby Leonard, Payne County YF&R chair. "We are continuing to work hard to ensure people in the community know the story of agriculture."
The Payne County YF&R committee earned the award for its work to promote agriculture and Farm Bureau to its local community. The committee hosted many events throughout the year, especially for youth in the county. Hosting the inaugural Payne County Palooza Cattle Showmanship Clinic, county 4-H members had the opportunity to learn more about what it takes to care for and show a cow, many of which were first-time showmen.
Each year, the committee hosts a bucket calf contest for children ages 5-12 at the Payne County Free Fair. Members volunteer at the local food bank in Stillwater, Our Daily Bread.
Many of the county YF&R committee members have been active on the state level, attending legislative meetings, YF&R conferences and OKFB conventions.
The county received a traveling plaque in recognition for their outstanding committee involvement.
The Oklahoma Farm Bureau Annual Meeting is the organization's largest gathering of farmers and ranchers every year. At the event, members vote on grassroots policy, elect leaders and award outstanding individuals. OKFB has a presence in all 77 Oklahoma counties and serves as the voice of agriculture and the rural way of life. To learn more, visit www.okfarmbureau.org.
---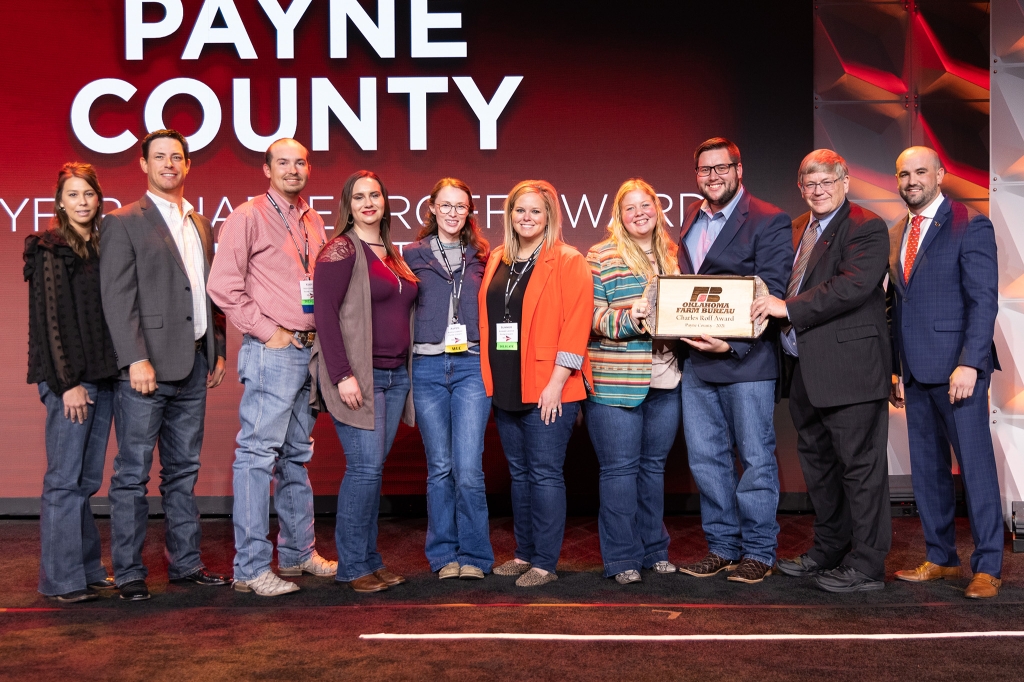 Download the photo of Payne County YF&R receiving the 2021 OKFB YF&R Charles L. Roff award.