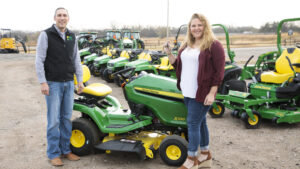 Jenny Haken of Payne County Farm Bureau was named the winner of the 2020 Oklahoma Farm Bureau Young Farmers and Ranchers Discussion Meet held in conjunction with the group's caucus on Saturday, Oct. 24 in Oklahoma City.
Haken competed against other participants in debate-style discussion where performance was evaluated on the exchange of ideas and information on pre-determined topics. Participants were judged on their ability to offer constructive criticism, cooperation and communication while analyzing agricultural problems and developing solutions.
"I'm proud to have been selected as this year's discussion meet winner," Haken said. "Farmers and ranchers across America are privileged to have YF&R provide the discussion meet to allow in-depth discussion and thought exchange on important topics facing agriculture today. With platforms such as the discussion meet, American agriculture can and will find effective and efficient ways of diversifying and adapting."
As the state discussion meet winner, Haken received a John Deere X330 Lawn Tractor, sponsored by P&K Equipment. She also has the opportunity to compete in the American Farm Bureau Federation's YF&R Discussion Meet in January.