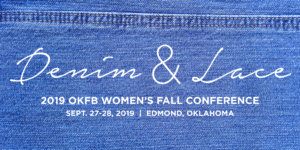 Oklahoma Farm Bureau women from across the state are invited to attend the 2019 Women's Leadership Committee Fall Conference September 27 and 28 at the Hilton Garden Inn in Edmond.
The conference will feature motivational speakers, leadership training and the sharing of ideas for the WLC program of work. Fun and fellowship will set the mood for the conference, which includes outstanding speakers and presentations geared to empower members to take an active role in promoting agriculture for future generations of Oklahomans.
Each participant is asked to donate a minimum of one item towards the silent auction benefiting Bushels for Books, a program coordinated by the OKFB WLC to provide accurate agriculture books to elementary students across the state. The books distributed will cover a variety of agricultural topics that are appropriate for the grade level receiving the books.
To register for the conference, participants must complete a registration form and return it to OKFB Women's Leadership Committee Coordinator Marcia Irvin no later than Sept. 10, 2019. Registration forms can be found in the OKFB Application Center. The event is free to all OKFB women.
For more information, contact OKFB WLC Coordinator Marcia Irvin at 405-523-2300.