Chris and Ashley Hoskins were honored with the Oklahoma Farm Bureau Young Farmers and Ranchers Excellence in Agriculture Award at the organization's 81st annual meeting Nov. 12 in Norman.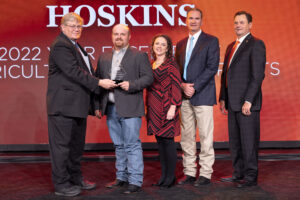 The award is presented to young farmers and ranchers who do not derive a majority of their income from a farming or ranching operation for excellence in agriculture and Farm Bureau.
"This is really an honor for our family to be recognized," said Chris Hoskins, a Rogers County Farm Bureau member. "It is great to have an impact and a voice in the community."
Hoskins works in the construction industry as an operations manager, where he bids and schedules jobs and coordinates employee, supply and equipment schedules. He and his wife own a cow-calf operation in Rogers County, where they sell replacement heifers and offer a freezer beef program to local buyers.
"To be recognized even if you are not a full time farmer or rancher means a lot to me," Hoskins said.
Hoskins serves on both his county and the state YF&R committees. He also serves as chairman of the Rogers County Feeding Contest.
The Hoskins family received a Polaris ATV, courtesy of Ag Credit and Farm Credit of Western Oklahoma. They also earned a trip to the American Farm Bureau Federation Annual Meeting Jan. 6-11 in San Juan, Puerto Rico, where they will compete for the AFBF Excellence in Agriculture Award.
The Oklahoma Farm Bureau Annual Meeting is the organization's largest gathering of farmers and ranchers every year. At the event, members vote on grassroots policy, elect leaders and award outstanding individuals. OKFB has a presence in all 77 Oklahoma counties and serves as the voice of agriculture and the rural way of life. To learn more, visit okfarmbureau.org.
---
Download a high-resolution photo of the 2022 OKFB YF&R Excellence in Agriculture Award winners suitable for printing (jpeg link).