Sen. Larry Boggs of Wilburton was recognized with the Distinguished Service to Oklahoma Farm Bureau Award on Saturday, Nov. 9 during the organization's 78th annual meeting in Oklahoma City.
The award honors individuals who have made outstanding contributions to agriculture and the Farm Bureau organization.
Boggs earned the award for his longtime commitment to supporting farmers and ranchers as a state senator representing Senate District 7 which includes Haskell, Latimer, Pittsburg and portions of Hughes and Okfuskee Counties.
"We really appreciate Sen. Boggs for his understanding of agriculture, his passion for agriculture and the job he does talking to his fellow members in the Senate on agricultural issues," said Rodd Moesel, OKFB president. "There's nothing better than having legislators who really understand agriculture themselves that are in the caucus rooms, the committee rooms and on the chamber floors."
A cow-calf producer near Wilburton, Boggs is an active member of Latimer County Farm Bureau. He served on the OKFB board of directors for eight years representing the organization's District Five before running for the state senate.
"For me, (Farm Bureau) is a great organization and I was glad to serve at the county and at the state level both," Boggs said. "It's a great honor."
The Oklahoma Farm Bureau annual meeting is the organization's largest gathering of farmers and ranchers every year. At the event, members vote on grassroots policy, elect leaders and award outstanding individuals. OKFB has a presence in all 77 Oklahoma counties and serves as the voice of agriculture and the rural way of life. To learn more, visit www.okfarmbureau.org.
---
High-resolution photo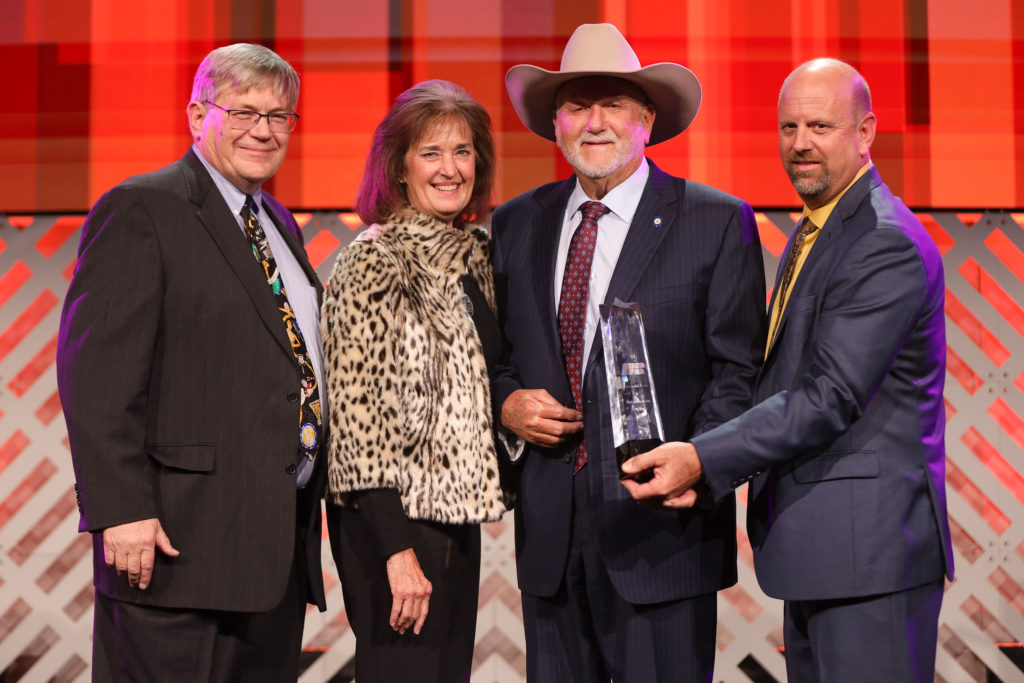 Download a high-resolution photo of the Sen. Larry Boggs (second from right) receiving the 2019 Oklahoma Farm Bureau Distinguished Service to Oklahoma Farm Bureau Award from OKFB Executive Director Thad Doye (right) and President Rodd Moesel (left). Accompany Sen. Boggs is his wife, Karla.