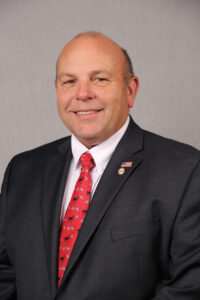 American Farm Bureau President Zippy Duvall shared the national organization's efforts for farmers and ranchers this year in an address to Oklahoma Farm Bureau members during the organization's 2020 online business meeting held Thursday, Nov. 5.
Duvall conveyed six key issues AFBF leaders and staff have worked on in Washington, D.C., during the past year.
1. Cultivating relationships with Congress, federal agencies
Many of Farm Bureau's successes can be attributed to the continued and new relationships being built between AFBF and congressional leadership, fellow agricultural organizations and federal agencies, including the U.S. Department of Agriculture and the Environmental Protection Agency.
"Those relationships that we have built with this administration and other people around Washington D.C., have paid huge dividends to our farmers," Duvall said.
The organization's commitment to building relationships also paid off as they worked to connect state Farm Bureaus with congressional and federal leaders through conference calls and other virtual meetings during COVID-19.
Because of the pandemic, many state Farm Bureaus were forced to cancel trips to the nation's capital to advocate for agriculture and rural issues in Congress.
"We've had secretaries, congressmen, chairman of the House Ag committee and people from the White House join calls," Duvall said. "It was our way of bring Washington D.C. to you when you could not travel there.
2. Communicating ag's story during pandemic
As supply chain disruptions during the COVID-19 pandemic caused many Americans to question the nation's food supply, AFBF jumped into action to reassure consumers that farmers and ranchers across the country were still producing the food on which the nation relies.
"It's the first time in our lifetime we have seen ever experienced empty shelves at supermarkets," Duvall said. "It made people who weren't connected to agriculture step back and say, 'What about our food? Is there going to be enough food? Is it going to be safe?'"
Through its Still Farming campaign, AFBF worked to provide glimpses into the work of farmers and ranchers across the country. Using the hashtag #StillFarming, Farm Bureau members – and many others throughout the agriculture and food industry – shared posts on social media to allow consumers to see the commitment and dependability of American agriculture.
3. Examining issues in cattle markets
Similar to the Holcomb packing plant fire in 2019, the COVID-19 pandemic resulted in extreme disruptions and volatility throughout beef cattle markets.
Duvall shared AFBF's creation of a beef cattle market working group, comprised of 10 state Farm Bureau presidents, to investigate factors that led to market disruptions and to provide Farm Bureau members with insight and potential policy considerations. The working group's full report may be found on the AFBF website.
4. Voicing farmers' need for free and fair trade
Duvall also highlighted AFBF's dedication to speaking for farmers and ranchers as the Trump administration negotiated and implemented various international trade agreements. AFBF saw wins as the United States-Mexico-Canada Agreement went into effect on July 1, increasing agricultural exports by an estimated $2 billion over the previous North American Free Trade Agreement.
Duvall also provided an update of the U.S.'s exports with China, sharing that China has committed to nearly three-quarters of its Phase One agreement goals for 2020 amounting to $23 billion.
"We are really excited," Duvall said. "Even in a bad world economy and a pandemic, (China) is going to come close to achieving what they had promised to do."
5. Renewing regulatory reform
One of AFBF's biggest wins of the year was the end of the organization's Ditch the Rule campaign to replace the Obama administration's Waters of the United States rule. After years of work, the EPA's new Clean Water Rule provides America's farmers and ranchers with clear guidelines to protect clean water.
Unlike the extreme federal overreach seen with the WOTUS rule, the new Clean Water Rule clearly defines federal water jurisdiction while still protecting the nation's water resources.
6. Preserving the estate tax exemption
Though the Tax Cuts and Jobs Act of 2017 did increase the estate tax exemption to a rate that exceeds the value of most farms across America, the new exemption is set to expire in 2025.
"We need to remember this will only be in effect for five years," Duvall said. "It could come to an end, and we need to be prepared to continue to fight that battle to reduce and eliminate estate taxes."
AFBF has already began work to keep the current estate tax exemption rate in place to protect the next generation from losing the family farm.
The year 2020 has been a difficult year for everyone, especially for American agriculture. But Duvall encouraged Oklahoma farmers and ranchers to continue to persevere.
"Our nation seems to be very divided, but I believe that we still are united in the vision and hope of America: life, liberty and the pursuit of happiness," Duvall said. "I believe the unity that we have in Farm Bureau – knowing that we are stronger together – sets a great example for America. Farm Bureau members represent the best of our nation."
---
Watch AFBF President Duvall's Full Remarks