A committee of nearly 40 Oklahoma Farm Bureau members met in Edmond Oct. 16-17 to review, condense and organize proposed resolutions to the organization's 2020 policy book.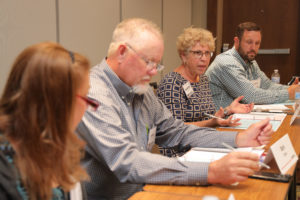 Made up of farm and ranch members from across the state, the committee reviewed resolutions submitted by members in all 77 counties. The proposed policies cover a variety of agriculture and rural issues including ad valorem taxes, rural health care, rural broadband, cooperative extension services, mandatory animal identification, invasive species management and more.
The meeting served as one of the final steps of the organization's grassroots policy development process. The full delegate body of Farm Bureau members will consider and vote on the proposed resolutions during the 2019 OKFB Annual Meeting to be held Nov. 8-10 in downtown Oklahoma City.
For questions about resolutions and OKFB policy, please call (405) 523-2300 and ask for Emmy Karns. For more information about convention, please click here.