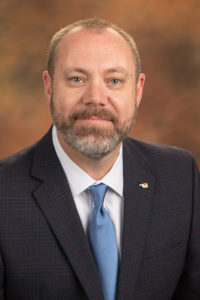 Oklahoma Farm Bureau recently named Steve Thompson as the vice president of public policy.
Thompson will lead the OKFB public policy team as they work to implement the organization's grassroots policy in Oklahoma and in Washington, D.C. in his new role.
"I'm grateful for this new leadership role and the opportunity to continue engaging with Farm Bureau members from around the state," Thompson said. "Our Public Policy team is well-positioned to uphold the OKFB tradition of vigorous advocacy for agriculture and rural Oklahoma. Although we face many challenges, I am very optimistic about the organization's ability to positively impact the future of our state."
Thompson will also serve as the interim executive director of the Royalty Owner Coalition of Oklahoma.
Prior to joining OKFB, Thompson served as director of government relations and ag programs for American Farmers and Ranchers. Thompson also worked for nine years at the Oklahoma Department of Agriculture, Food and Forestry, first as legislative liaison, then as associate commissioner. He studied agricultural education and agricultural economics at Oklahoma State University.
Thompson also serves as a livestock show superintendent at the Oklahoma Youth Expo and Tulsa State Fair. He received the okPork Ambassador Award from the Oklahoma Pork Council in 2019, the Distinguished Service Award from the Oklahoma Cattlemen's Association in 2007 and the Honorary State FFA Degree in 2018. He and his wife Jana have one son, Will, and they reside in Yukon.