The Thompson family of Pauls Valley received the Oklahoma Farm Bureau Women's Leadership Committee's District Eight Farm and Ranch Family Recognition during the organization's 78th annual meeting on Saturday, Nov. 9 in Oklahoma City.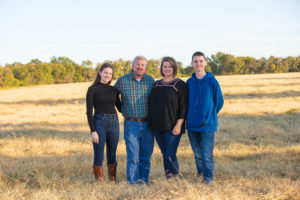 Focusing mainly on hay crops such as alfalfa and Bermuda grass on their 1,200 acres of Washita River bottomland, Brent and Famie Thompson's investment into on-farm storage has allowed the equine, dairy and beef cattle markets to come directly to them. A portion of that land is also used occasionally for corn, soybeans and wheat to keep their operation diversified. The Thompsons also dedicate an additional 1,800 acres to their 350 mother cows.
"We've spent a lot of time and effort looking at the fertility in our soils and also trying to figure out exactly what plants we're going to be growing, what their nutrient needs are going to be," Brent said. "We try to time those nutrient needs at the time that will be most beneficial for the plant to optimize not only productivity but also quality of the crop we're growing."
As the fourth generation to farm in Pauls Valley, the Thompsons have learned how to adapt with the changes in agriculture throughout the last 100 years and will continue to do so.
"One of the things that's been instilled in me by my dad and grandad is the importance of hard work," Brent said. "God and family comes first and we do work a lot of hours, we put in a lot of hours, but it's very important for us to take care of the land that God has given us to be stewards over, and it's extremely important to me to leave a legacy to my children, and hopefully grandchildren, that if they're interested in continuing on in the operation, that its left in a better state than when we started."
Although she grew up in Oklahoma City, Famie cannot imagine raising their three children – Emma, Cole and Brenna – anywhere else but right here on the farm.
"Being around agriculture, it has opened my eyes to how important agriculture is in our nation, how important farm families and farmers are for our nation, they feed our nation," Famie said. "I mean that's what my husband and his family have done for generations."
Active within their local community, Brent is a board member of the Garvin County Cattle Producers and the Pauls Valley FFA Booster Club. Famie serves as a board member of the Pauls Valley Academic Excellence Board and volunteers with several community organizations when needed such as at the local fair, school library or preparing meals for those in a time of need. She also volunteers regularly with the Pauls Valley FFA and is a member of the Pauls Valley FFA Booster Club.
OKFB's Farm & Ranch Family Recognition program honors a farm and ranch family in each of OKFB's nine districts who upholds the best traditions of Oklahoma agriculture and rural Oklahoma as they raise food and fiber for our state and beyond.
"Our farm and ranch families do a tremendous job caring for the land and their animals as they work to feed and clothe us all," said Mignon Bolay, OKFB WLC chair. "Our Women's Committee is proud to honor these great families who help make rural Oklahoma a wonderful place to live."
As part of their recognition, the family received a cash award along with a custom sign to hang at their farm gate.
The Oklahoma Farm Bureau Annual Meeting is the organization's largest yearly gathering of farmers and ranchers. At the event, members vote on grassroots policy, elect leaders and award outstanding individuals. OKFB has a presence in all 77 Oklahoma counties and serves as the voice of agriculture and the rural way of life. To learn more, visit www.okfarmbureau.org.
---
---
High-resolution photo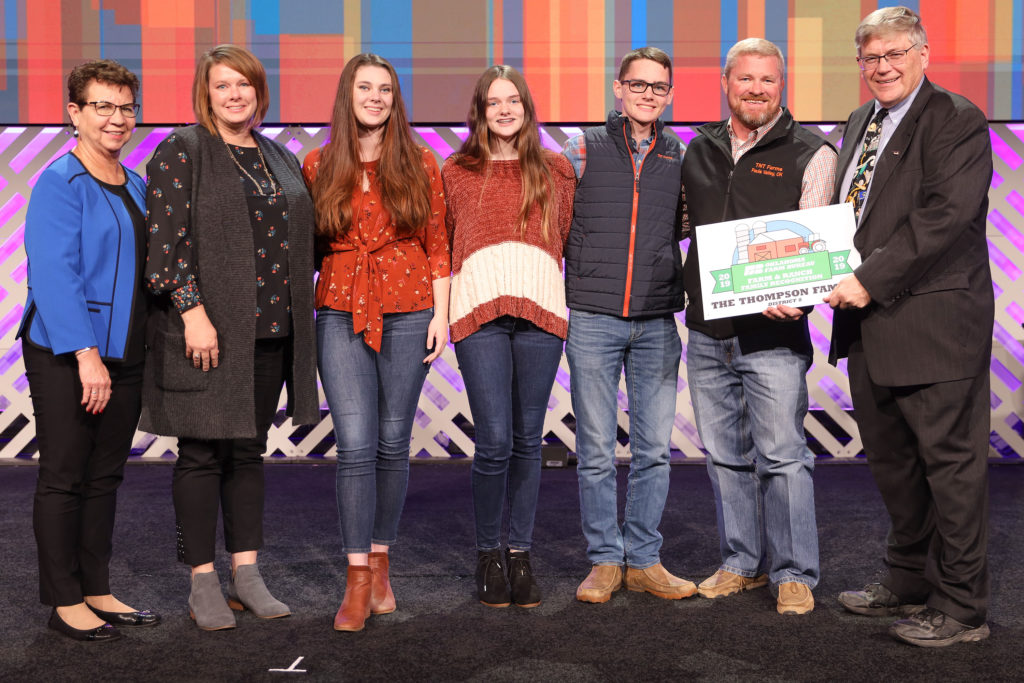 Download a high-resolution photo of the Thompson family receiving their 2019 Farm and Ranch Family Recognition.