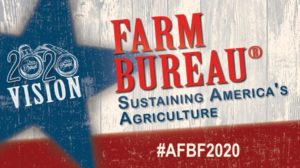 Oklahoma Farm Bureau members are invited to attend one of the largest annual gatherings of farmers and ranchers from across the country at the 101st American Farm Bureau Federation Annual Convention & IDEAg Trade Show  on Jan. 17-22, 2020 in Austin, Texas.
The meeting is an excellent opportunity to learn about policies and perspectives that will affect your farm or agribusiness in 2020, participate in educational workshops to advance your leadership skills, expand your business acumen and gain deep insight into the trends and realities impacting food production.
Still need convincing? Below are 10 more reasons to attend the AFBF annual convention with OKFB.
Listen to informative and motivating keynote speakers as they discuss hot topics, issues in agriculture and the 2020 vision for Farm Bureau.
Attend over 80 educational workshops on commodity outlooks, business acumen, leadership, emerging industry technologies and more.
Support ag literacy through the Foundation for Agriculture by participating in fun events like Flapjack Fundraiser or Foundation Night Out – with a performance by Jamey Johnson.
Learn more about Farm Bureau member benefits.
Network with exhibitors and make purchases on the trade show floor.
Explore local agriculture through the fun and informative Texas tours.
Find inspiration through the TED-style talks on the Cultivation Center stage.
Cheer on contestants during the many national competitions.
Connect with old friends and make new connections from across the nation.
See the sites and explore the culture of Austin, Texas.
OKFB has created three travel packages for the convention, giving members the option to ride a bus, fly or drive themselves. Find full details on the packages in the registration packet here.
For more information about attending the AFBF annual meeting, contact Melisa Neal at (405) 523-2300.