In celebration of Read an Accurate Ag Book Week held Sept. 8-11, 2020, Oklahoma Farm Bureau Women's Leadership Committee Chair Mignon Bolay reads "Full of Beans: Henry Ford Grows a Car" while on her family's farm near Perry, Oklahoma.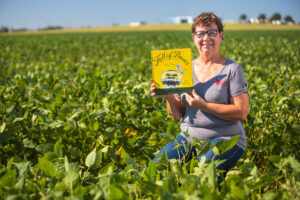 Written by Peggy Thomas and published by Calkins Creek, the book inspires readers of all ages to think innovatively – even to build a car completely made of soybeans. The video is for educational purposes only.
The OKFB WLC has provided each county Farm Bureau office across the state with a copy of the book for educators, parents or families to read. Contact your county Farm Bureau for more information.
Listen to OKFB WLC Chair Mignon Bolay read "Full of Beans: Henry Ford Grows a Car"