The Kyle and Laura Widney family of Watonga received the Oklahoma Farm Bureau Women's Leadership Committee's District Three Farm & Ranch Family Recognition during the organization's 78th annual meeting on Saturday, Nov. 9 in Oklahoma City.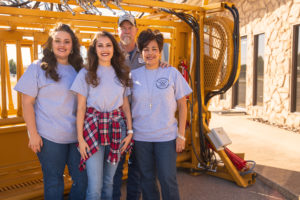 The Widneys farm wheat and Bermuda grass alongside a cow-calf operation in western Oklahoma's Blaine County. The family also owns and operates Flying W Livestock, a livestock equipment company first started by Kyle's father in the 1980s.
Spending most of his days at Flying W Livestock, Kyle builds custom hydraulic cattle chutes, alleys, horse chutes and other equipment for livestock producers and veterinarians throughout the U.S. and around the world.
"The good Lord's blessed us," Kyle said. "My dad always said it was the good Lord's business and we're just running it for him, so that's what I'm still doing."
With the family business located near the heart of Watonga, the couple deeply cares about investing in the future of their local community. Laura devoted 30 years to the students of Watonga as an educator and Kyle continues to mentor local youth who are interested in a career in welding.
"We try to be involved you know as much as possible," Kyle said. "With the farm and the business, they keep us busy, but you know there's always time to help others in the community."
That same community is the one that helped raise the couple's two daughters, Ashtyn and Kamry. Though the two girls now have lives off the farm as an accountant and a soon-to-be teacher, they continue to carry with them the values they learned being raised in rural Oklahoma.
"Having them grow up in a small, rural community and having a rural family that they can come back to – and I just think them being raised in this kind of community – they've loved it as much as we have for them," Laura said.
The Widneys also are involved in the Watonga Chamber of Commerce and are active members of the Watonga Christian Church and Blaine County Farm Bureau.
OKFB's Farm & Ranch Family Recognition program honors a farm and ranch family in each of OKFB's nine districts who upholds the best traditions of Oklahoma agriculture and rural Oklahoma as they raise food and fiber for our state and beyond.
"Our farm and ranch families do a tremendous job caring for the land and their animals as they work to feed and clothe us all," said Mignon Bolay, OKFB WLC chair. "Our Women's Committee is proud to honor these great families who help make rural Oklahoma a wonderful place to live."
As part of their recognition, the family received a cash award along with a custom sign to hang at their farm gate.
The Oklahoma Farm Bureau Annual Meeting is the organization's largest yearly gathering of farmers and ranchers. At the event, members vote on grassroots policy, elect leaders and award outstanding individuals. OKFB has a presence in all 77 Oklahoma counties and serves as the voice of agriculture and the rural way of life. To learn more, visit www.okfarmbureau.org.
---
---
High-resolution photo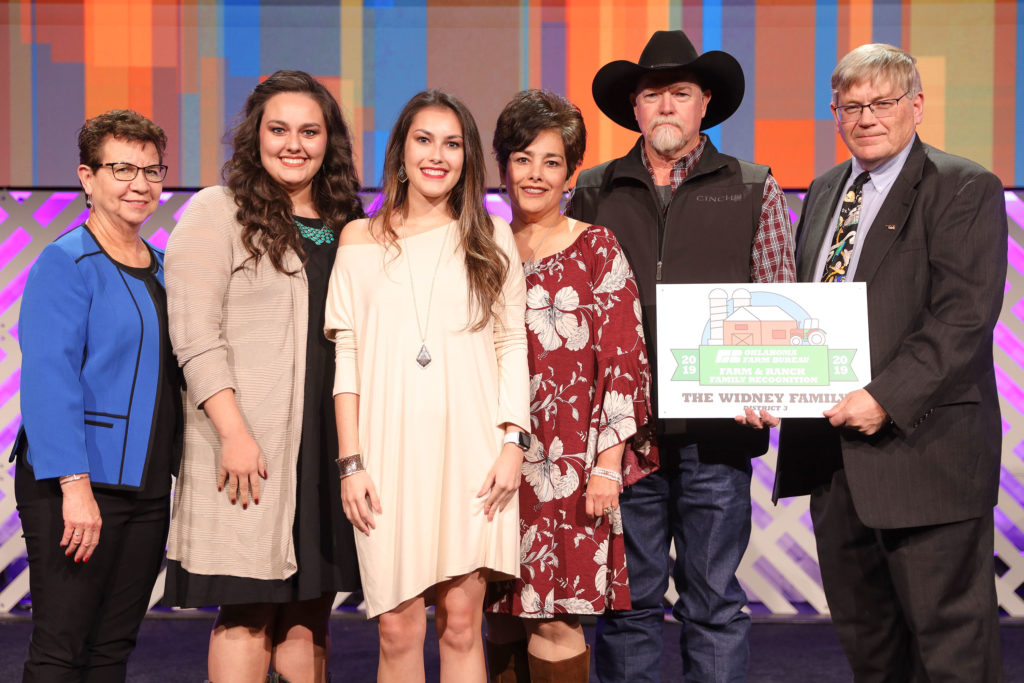 Download a high-resolution photo of the Widney family receiving their 2019 Farm and Ranch Family Recognition.