The Woods family of Marlow received the Oklahoma Farm Bureau Women's Leadership Committee's District Four Farm and Ranch Family Recognition during the organization's 78th annual meeting on Saturday, Nov. 9 in Oklahoma City.
Brian and Sarah Woods, along with their five young children – Kiersten, Hannah, Grant, Jase and Nash – have a cow/calf and stocker cattle operation that they run in Stephens and Comanche Counties. The family also grows wheat, alfalfa and other forage crops to feed their herd.
The Woods family manages their land and cares for their animals using careful planning, which includes short- and long-range planning to cover a variety of situations they might encounter farming and ranching in southwest Oklahoma.
"When you have obstacles come up you might make a decision based on emotion, a change in the market or weather," Brian said. "But if I have something written out, and I stay with that, it just helps me through it."
Sarah works in Lawton as a Certified Public Accountant, operating her own accounting and business advising firm. She said the family's careful farm management has a purpose that goes beyond typical business goals.
"As an accountant and business advisor, the goal of any business, whether it be agriculture, real estate, commercial or something else, is to generate a profit," Sarah said. "For us, that profit includes the financial profit so that we can feed and raise our family, but there's also a personal profit through which we gain satisfaction and fulfillment by contributing to the United States food supply in a responsible fashion."
The Woods family's ultimate goal goes beyond a five-year plan as they look generations into the future for their family.
"That's what it's about for us is the next generation and making sure they understand the beauty of nature and agriculture so that they grow up to instill that in hopefully our grandkids and our great-grandkids," Sarah said.
Brian said that even through all the planning and effort the family invests in their farm and ranch, it is a simple reason that keeps them working the land.
"I always look forward to what we have to do the next day, whether it's going to be hard or hot or cost money, I enjoy every minute of it," Brian said.
The Woods family is involved in their community in a variety of ways. In 2018, they supported the Lawton Food Bank by donating two steers to the food bank's annual food campaign. Sarah serves as treasurer of the Junior League of Lawton, secretary of the Mayor's Commission on the Status of Women in Comanche County, a member of the Downtown Kiwanis Group and is a member of Class XXX Leadership Lawton-Fort Sill. The family's children are heavily involved in a variety of activities at Central High School.
OKFB's Farm & Ranch Family Recognition program honors a farm and ranch family in each of OKFB's nine districts who upholds the best traditions of Oklahoma agriculture and rural Oklahoma as they raise food and fiber for our state and beyond.
"Our farm and ranch families do a tremendous job caring for the land and their animals as they work to feed and clothe us all," said Mignon Bolay, OKFB WLC chair. "Our Women's Committee is proud to honor these great families who help make rural Oklahoma a wonderful place to live."
As part of their recognition, the family received a cash award along with a custom sign to hang at their farm gate.
The Oklahoma Farm Bureau Annual Meeting is the organization's largest yearly gathering of farmers and ranchers. At the event, members vote on grassroots policy, elect leaders and award outstanding individuals. OKFB has a presence in all 77 Oklahoma counties and serves as the voice of agriculture and the rural way of life. To learn more, visit www.okfarmbureau.org.
---
---
High-resolution photo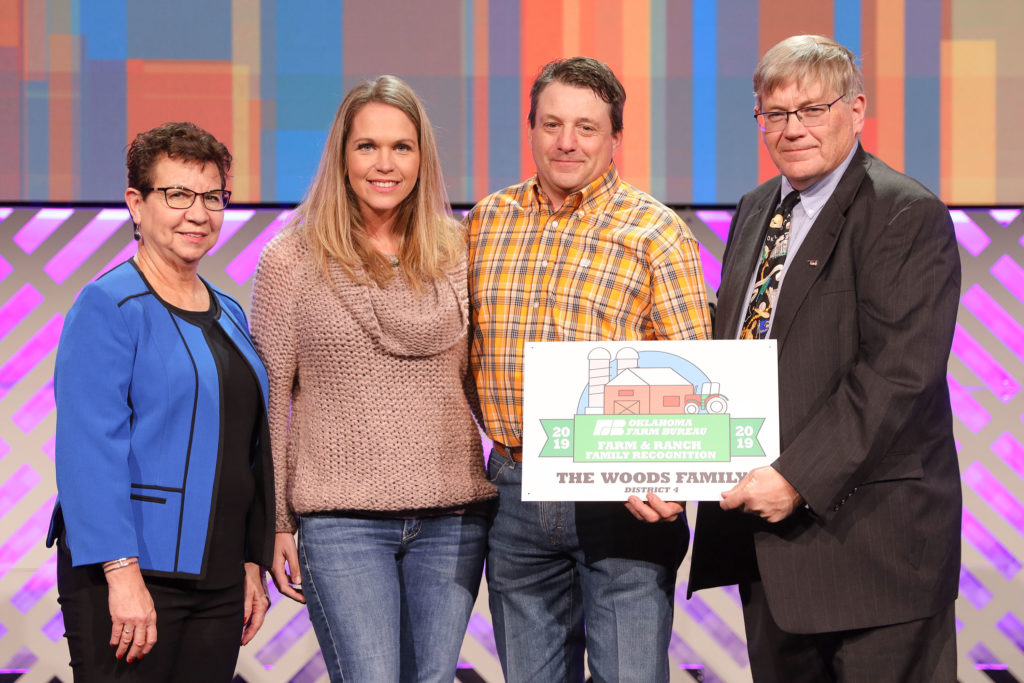 Download a high-resolution photo of the Woods family receiving their 2019 Farm and Ranch Family Recognition.