Cody and Kara Goodknight of Comanche County Farm Bureau were chosen to serve as chairs of the Oklahoma Farm Bureau Young Farmers & Ranchers committee by delegates to the OKFB YF&R caucus held Saturday, Oct. 24 in Oklahoma City.
"We are honored to have the opportunity to serve as chairs of the YF&R committee this year," Cody Goodknight said. "We greatly enjoy networking with other agriculturalists around our state and country and are excited about the activities Farm Bureau has planned for next year."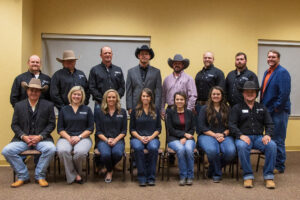 Other members elected to serve on the committee include Chism and Heather Sander of Dewey County, district one; Dustin Ratliff of Noble County, district seven; John and Myiul Morris of Cotton County, at-large; and River Mitchell of Comanche County, at-large.
Jenny Haken of Payne County Farm Bureau was named the winner of the 2020 YF&R Discussion Meet, held in conjunction with the YF&R caucus. Discussion meet participants competed in debate-style discussion and were evaluated on their ability to offer constructive criticism, cooperation and communication while analyzing agricultural problems and developing solutions.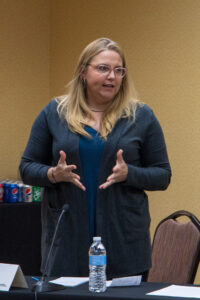 As the state discussion meet winner, Haken received a John Deere X330 Lawn Tractor, sponsored by P&K Equipment. She also has the opportunity to compete in the American Farm Bureau YF&R Discussion Meet in January.
The YF&R committee opted to host the small in-person caucus and discussion meet following the cancelation of this year's in-person OKFB convention. Find more information on OKFB's end-of-year events on the 2020 OKFB Online Business Meeting web page.