The Oklahoma Farm Bureau Young Farmers and Ranchers committee raised $8,000 to benefit the OKFB Foundation for Agriculture at their 2019 shotgun shoot at Quail Ridge Shooting Sports near McLoud on Saturday, Sept. 21.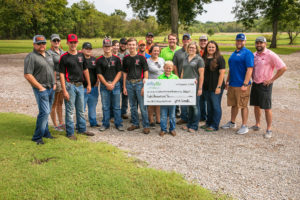 A total of 18 teams from around the state competed in the shoot, which featured 13 sporting clays stations.
Shooters from the Navajo FFA chapter won the top team award, receiving $100 gift cards.
"Farmers and ranchers see the needs our neighbors and rural community members have, and our YF&R committee is proud to support the foundation's efforts to help our fellow Oklahomans," said Brent Haken, OKFB YF&R chairman. "The shotgun shoot is a fun way to come together and raise money so agriculture can help each other in times of need."
The proceeds from the shoot will help fund foundation programs that support agriculture and rural Oklahoma while educating consumers about where their food comes from. Money was raised from individual and team entry fees as well as from sponsorships provided by private and corporate partners.
Sponsors for the event included:
Platinum
Lewis Roofing
German Roofing
OKFB Women's Leadership Committee
OKFB Young Farmers & Ranchers Committee
Manheim
Oklahoma Association of Nurse Anesthetists
Oklahoma Farm Bureau Insurance
Jackson County Farm Bureau
Comanche County Farm Bureau
Pottawatomie County Farm Bureau
Gold
American Ag Credit
Southwest Center Pivots
Farm Credit of Western Oklahoma