Rural Oklahomans now have only four days left to be counted in the 2020 Census.
The final deadline for self-responses to the 2020 Census has been pushed back to Oct. 5 following a recent federal court ruling. The U.S. Census Bureau's deadline previously was set for Oct. 31, then moved up to Sept. 30 but was challenged in court.
While 60.7% percent of Oklahomans have self-responded to the 2020 Census, a total of 98.6% of Oklahomans have been counted, as of Thursday, Oct. 1.
2020 Census self-response rates by county, as of Oct. 1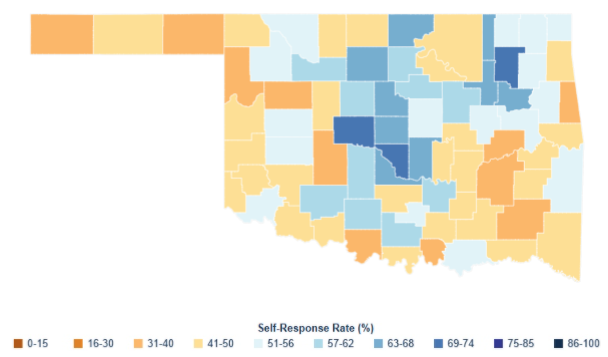 Top 10 Oklahoma counties for response rates, as of Oct. 1
Canadian County, 72.3%
Cleveland County, 69.9%
Rogers County, 69.7%
Wagoner County, 68.4%
Washington County, 67.7%
Tulsa County, 67.2%
Logan County, 66.1%
Oklahoma County, 65.8%
Garfield County, 65.7%
McClain County, 64.4%
Bottom 10 Oklahoma counties for response rates, as of Oct. 1
Marshall County, 31.0%
McIntosh County, 32.3%
Cimarron County, 33.8%
Pittsburg County, 38.2%
Beaver County, 38.7%
Adair County, 38.8%
Pushmataha County, 39.2%
Caddo County, 39.4%
Ellis County, 40.0%
Dewey County, 40.16%
The census can play a critical role in securing growth and prosperity for rural communities across the state. Census data is used to allocate $675 billion in federal funding to communities for critical services including hospitals, fire departments, schools, roads and many other resources. Responses to the census also will determine the number of seats Oklahoma receives in the U.S. House and will be given to the state Legislature to use in redrawing legislative district lines.
Complete your 2020 Census today by visiting 2020Census.gov or calling 1-844-330-2020. Learn more about the impact of the 2020 Census on rural Oklahoma at okfarmbureau.org/census.