Farmers and ranchers will decide which political candidates would best uphold the values of rural Oklahoma as the Ag Fund – Oklahoma Farm Bureau's political action committee – kicks off its grassroots process over the next few weeks.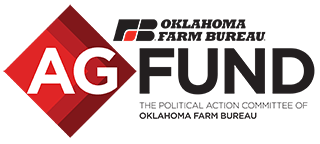 Funded by voluntary dues and donations from OKFB members, the Ag Fund allows farmers and ranchers to endorse and/or financially support candidates for elected positions in Oklahoma that best represent agriculture and rural Oklahoma.
The grassroots political action committee begins its process at the county level, where members make recommendations on local elections. A county representative then takes those suggestions to the district level, where a district representative is chosen to serve on the Ag Fund board.
Finally, the Ag Fund board – made up of one Farm Bureau member from each OKFB district – meets to discuss and evaluate whom to financially support or endorse.
During each election cycle, the Ag Fund board meets multiple times to lend support and endorsements before primary elections, before primary election runoffs and before the general election.
Candidates running for office are invited to complete a survey to state their position on areas of interest to OKFB members. These surveys are used by the Ag Fund board to help determine financial support and endorsements.
Learn more about getting involved with the OKFB Ag Fund here.
OKFB Ag Fund District Meetings
County Farm Bureaus elect a representative to participate in the OKFB Ag Fund district meetings, where a district representative is elected to serve on the OKFB Ag Fund board. He or she will take the recommendations of the district to the Ag Fund board as they make decisions on which candidates to support. The meetings will each utilize Zoom meetings to allow counties to participate remotely.
District One
Tuesday, May 19 • 12 p.m.
Beaver County Farm Bureau
District Two
Wednesday, May 20 • 12 p.m.
Kiowa County Farm Bureau
District Three
Tuesday, May 19 • 6:30 p.m.
Canadian County Farm Bureau
District Four
Monday, May 18 • 12 p.m.
Murray County Farm Bureau
District Five
Monday, May 18 • 12 p.m.
Pete's Place – Krebs
District Six
Tuesday, May 19 • 12 p.m.
Mayes County Farm Bureau
District Seven
Monday, May 18 • 6:30 p.m.
Garfield County Farm Bureau
District Eight
Tuesday, May 19 • 12 p.m.
Seminole County Farm Bureau
District Nine
Wednesday, May 20 • 12 p.m.
Tulsa County Farm Bureau