All 26 candidates supported or endorsed by the Oklahoma Farm Bureau Ag Fund, the organization's grassroots political action committee, advanced out of Oklahoma's primary elections held June 30.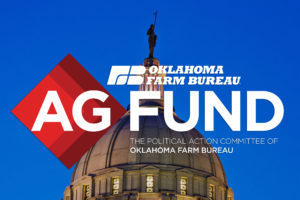 While 23 of those candidates will advance to the general election on Nov. 3, three candidates will face a runoff primary election on Aug. 25.
Following Tuesday's elections, the Ag Fund board of directors met Wednesday, July 1 to consider lending additional support to candidates running in primary runoff elections or the general elections. The board voted to provide financial contributions to four candidates for the first time, as well as donations to four candidates supported prior to the primary elections.
The Ag Fund board did not add to its list of endorsed candidates, but will meet following Oklahoma's Aug. 25 runoff elections to again consider lending more support.
The OKFB Ag Fund is supported by voluntary contributions from OKFB members across the state as an option portion of their membership dues. The Ag Fund is comprised of farmers and ranchers from each of OKFB's nine districts across the state. Learn more about the OKFB Ag Fund on the OKFB website.